Call Today for Help on Choosing the Right High Efficiency Oil Furnace for Your Home or Business – Free, No Obligation Quote: 516-830-4204
To keep your home or business space at comfortable temperatures all year round with a lower utility bill, it is worth buying and installing a high efficiency oil furnace. The price of oil is volatile, and it is always a good idea to use less fuel when possible. A high efficiency oil furnace can have AFUE (annual fuel utilization efficiency) ratings as high as 99 percent. A more energy efficient oil furnace will cost more upfront, but it will use less fuel over time and the costs will be recovered after the first few years of use. If you care about the environment, as well as the long-term cost for you personally, it is also estimated that upgrading to a more energy efficient oil furnace can cut CO2 emissions by 2.5 tons per year.
Things to Consider When Choosing an Energy Efficient Furnace
To explain the efficiency rating of a furnace a little more, an AFUE of 90% means that 90% of the energy in the fuel becomes heat for the home and the other 10% escapes up the flue and elsewhere. However, the AFUE does not include the heat losses of the duct system, which may reach 35% of the energy for output of the furnace when ducts are located in unconditioned spaces. Old, low efficiency furnaces with natural draft flue gas, continuous pilot light, thick walled heat exchangers may provide efficiencies ranging from 56% to 70% while the current models of high efficiency furnaces with condensing heat exchangers, fan-assisted exhaust and electronic pilot light can provide efficiencies ranging from 93% – 99%.
We can help you with choosing the right oil furnace for you:
high efficiency oil furnace cost
high efficiency oil burner
oil furnace brands
The Federal Trade Commission requires new furnaces to display their AFUE so consumers can compare heating efficiencies of various models. The top oil furnace brands include Adams Manufacturing. This company has developed a condensing oil-fired furnace with an AFUE of 99%, which is unbeatable. In comparison, the minimum allowed AFUE rating for non-condensing, non-weatherized oil furnaces is 83%, proving that is a wide range of efficiency possible. Williamson is another well respected manufacturer of oil furnaces, although they are not as efficient as the Adams line of condensing oil furnaces. The Williamson oil furnaces are still highly reliable and cost effective.
Top Oil Furnace Brands
Trane XV80 Oil Furnace
Carrier Performance 80 CVM Oil Furnace
Carrier Performance 80 OVM Oil Furnace
Heil QuietComfort 87 OLV Low Boy Oil Furnace
Armstrong Air L85UFV Highboy Oil Furnace
Lennox Signature Series SLO185V Oil Furnace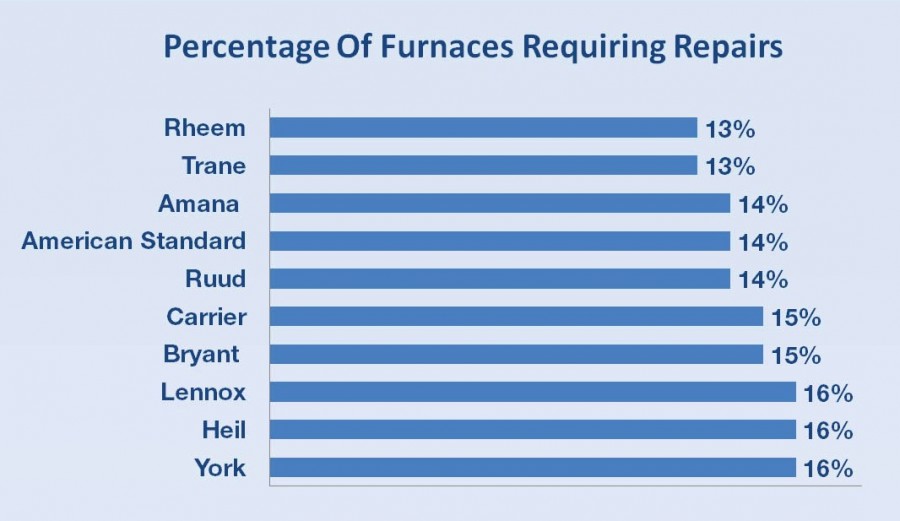 Some of the things to consider when choosing a high efficiency oil furnace include proper equipment sizing, modulating output, bio fuel compatibility and duct leakage. The heating industry sometimes over sizes systems, which can cause higher operational costs, too much heat, a higher rate of breakdowns, or premature replacement. Hire a contractor that will perform heat-loss calculations based on the number and size of the rooms in your home or business. Modulating outputs also allow for equipment to run at lower burner and fan rates.
If you need help deciding on which high efficiency oil furnaces to buy, Domino's Furnace Service can assist you. In addition, we will be able to provide all the services and tools needed to maintain, repair or tune up your oil furnace so that you have the best balance between upfront cost and long term efficiency.
Quality Installation is a Key to Your Furnace Efficiency and Performance
As with any mechanical equipment, oil furnaces need to be installed correctly to give you the efficiency, comfort control and durability you'd expect. We have over 25 years of experience in oil furnace installation.