Ask About Our $0 Down Financing:
Call Today to Learn More
Free Estimates on Oil Furnace Installation
Feel free to ask us at Domino's Furnace Service for more recommendations to suit your heating needs and budget. We have years of experience dealing with many brands and models of oil furnaces, and have the professional knowledge required to install a new oil furnace into your home or business correctly. Domino's Furnace Service is also able to help you maintain your new oil furnace well throughout the years, and do the highly recommended and comprehensive annual tune ups to keep your main source of winter warmth working as new.
How do you rely on a cozy winter season in Long Island: gas, oil or neither? Most Americans choose to have some form of heating throughout their home to keep them comfortable when the air is freezing outside. Although about 50% of American homes are heated with gas today, a lot of homes on Long Island use oil heat via a residential oil furnace. There are benefits to both, but the main reason that people settle on an oil furnace is the cheaper upfront cost. Before buying an oil furnace, look at the efficiency rating, which is also commonly called the Annual Fuel Utilization Efficiency (AFUE). This rating measures the efficiency of a machine's combustion, so a higher rating shows a higher efficiency of combustion.
The national average cost of furnace replacement is $4,007, with most homeowners spending between $2,500 and $5,846.
We are here to help you throughout the entire furnace installation process – from choosing the right oil furnace for your home or business to installing it!
Our services include:
New oil furnace installation
New oil furnace prices and sales
Free estimates on oil furnace installs
Financing options
New Oil Burner Installation
oil burner install
furnace install
We also do furnace replacement. If you are looking for a new oil furnace for your home or business, it is encouraging to know that most new oil furnaces have AFUE ratings between 80% and 90%, while their gas counterparts have ratings between 89% and 98%. Gas units are usually priced 10% to 25% higher than the same size oil furnace, so you need to consider the upfront cost versus the long-term gain. However, all new residential oil furnaces are significantly more efficient than their counterparts of ten or more years ago, some by as much as 30%. When you don't need the heat during the warmer months, an oil furnace can shut off its burners and will work with your heat pump or air conditioner to circulate cool air.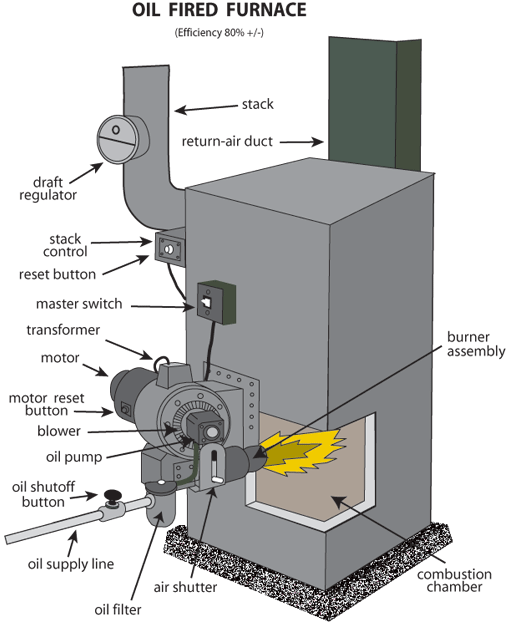 Average Cost for Installing a New Furnace on Long Island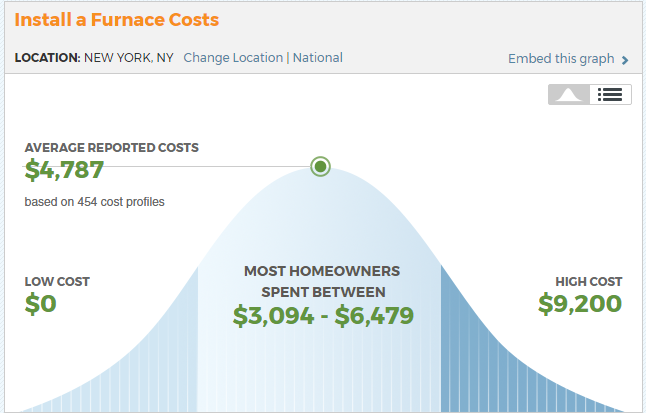 Popular Oil Furnace Brands
One of the popular brands of oil furnaces includes the Byrant Preferred Series, which operates quietly and efficiently with an AFUE rating of up to 86.6%. The Bryant Preferred Series can be matched with a Bryant heat pump to create a hybrid heat dual fuel system for optimum control over heating. Another well-known brand and model is Rheem's Classic Series of highboy/horizontal profile oil furnaces with three firing rates, limited lifetime warranty, and an efficiency rating of up to 86.5%. The Bryant and Rheem models boast the highest efficiency ratings, but you might also want to compare them with another popular brand, Legacy. The Legacy Line series of oil furnaces can dependably deliver efficient and even heating to your home, with an AFUE rating of up to 82.4%. This is still not much difference in efficiency to a gas burner, and you will save money upfront on the cost of a heating unit.
The chart below shows the average prices for oil furnaces in US. To give you an accurate price quote, please call us today: 516-830-4204
| Oil Furnace Brand | Estimated Furnace Cost | Estimated Installation Cost |
| --- | --- | --- |
| Armstrong | $1,360 | $4,640 |
| Ducane | $1,650 | $5,415 |
| Rheem | $1,660 | $5,440 |
| Olsen | $1,695 | $5,475 |
| Williamson | $1,750 | $4,681 |
| Miller | $1,850 | $5,950 |
| Carrier | $1,890 | $6,050 |
| Lennox | $1,950 | $6,225 |
| Thermo Pride | $2,260 | $7,040 |
| Trane | $2,300 | $6,872 |
| Average Furnace Cost | $1,836 | $5,780 |